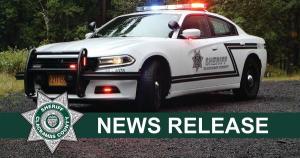 Please reference CCSO Case # 21-023297
The Clackamas County Sheriff's Office is investigating a stabbing following an alleged disturbance in Damascus.
Around 4:30 pm on Thursday, October 28, Clackamas County Sheriff's deputies responded to15000 block of SE 202nd Avenue, Damascus after a 911 caller reported they had been stabbed in by male.
Upon arrival deputies learned that the caller had been stabbed with a knife and the suspect had left the scene. The caller was treated by Clackamas Fire paramedics at the scene and transported to a local hospital by Life Flight to an area hospital.
A short time later, deputies located the suspect Kenneth Michael Beck, age 60, no fixed address. Kenneth Michael Beck was interviewed by detectives and booked into the Clackamas County Jail on the following charges:
ORS.163.185 – ASSAULT I
ORS.166.220 - UNLAW USE OF WEAPON
Bail was set at $250,000. Complete booking info is available at https://web3.clackamas.us/roster/#inmates
ADDITIONAL TIPS SOUGHT
The Sheriff's Office is seeking additional information in this case. Anyone with information is urged to contact the Sheriff's Office Tip Line — by phone at 503-723-4949 or by using the online email form at https://www.clackamas.us/sheriff/tip . Please reference CCSO Case # 21-023297
[END]
John Wildhaber
Clackamas County Sheriff's Office
Public Information Unit