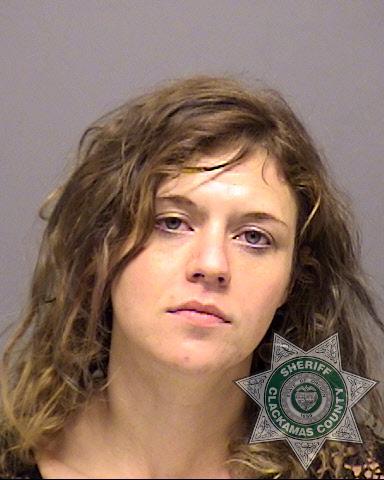 Please reference CCSO Case #s 20-019516, 20-019421, 20-019691, 20-019603, and 20-019277
Photos: 
On Oct. 12, 2021, 35-year-old Sandy Faye Lenox was sentenced to 90 months in prison for her role in multiple residential burglaries occurring within the south county evacuation zone during last year's Clackamas County wildfires.
In the afternoon on Sept. 11, 2020, Clackamas County Sheriff's Office deputies were conducting enhanced patrols of impacted areas and evacuated zones during the Clackamas County wildfires, watching for potential burglaries and other criminal activity. Around 2:12 p.m. they were dispatched to a report of two suspicious individuals possibly walking onto a property on Ringo Road, near Mulino. 
Deputies arrived and contacted several subjects. Two of them were James Dean Shotwell, 34, and Sandy Faye Lenox, then 34, no fixed address.
After an investigation, deputies determined that Shotwell and Lenox had stolen two gas-powered generators, a box of hand-tools including a cordless drill, two leaf blowers, and at least one gas can from a neighboring property. 
Shotwell and Lenox were each arrested and transported to Clackamas County Jail on charges of Theft I and Burglary II. 
This arrest soon led to the recovery of other stolen items, the development of separate cases, and additional criminal charges for Lenox:
During the Sept. 11 call, a stolen John Deere Gator side-by-side utility vehicle was also located in a nearby wooded area. James Shotwell had the key to this stolen utility vehicle in his pocket. The John Deere had been stolen out of Molalla. This led to the recovery of more stolen property, including a Polaris Ranger side-by-side utility vehicle.
 
Additional investigations of crimes involving Sandy Lenox followed. A search of Lenox's red 2001 Volkswagen Golf on Sept. 16, 2020 led to the recovery of a trove of additional stolen items -- including jewelry, precious metals and gems, clothing, tools, a laptop, antique and collectible coins, purses and handbags, a high-end sewing machine, a toaster oven, and other items. Photos of the search and recovered stolen items are attached. These items were linked to several other local burglary cases, and returned to their owners. (Associated CCSO case numbers include 20-019516, 20-019421, 20-019691, 20-019603, and 20-019277.) 
Many of the victims in these burglary cases had evacuated their homes during the wildfires.
On Nov. 20, 2020, James Dean Shotwell pled guilty to second-degree Burglary and first-degree Theft in the First Degree regarding his involvement in the burglary investigation; Shotwell was sentenced to 18 months in prison at that time.  
On Sept. 21, 2021, Sandy Faye Lenox (booking photo attached) pled guilty to the following: 
Two counts of first-degree Burglary
Four counts of second-degree Burglary 
Four counts of first-degree Theft 
One count of second-degree Attempted Burglary 
On Oct. 12, 2021, Lenox was sentenced to 90 months in prison.
Our September 2020 news release on the enhanced wildfire patrols: "Tales from the #ClackamasWildfire patrols: hundreds of calls met by dozens of deputies; recent arrests detailed"
[END]
Deputy John Wildhaber
Clackamas County Sheriff's Office
Public Information Unit